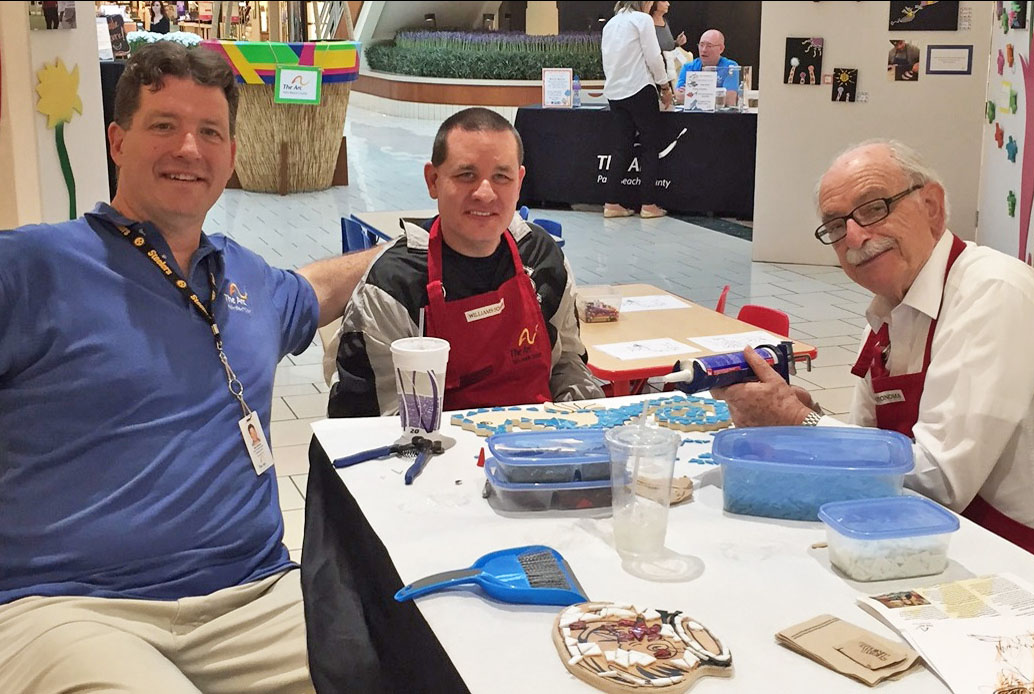 Volunteer of the Year David Lagnado and Art Director Sean Stickley assist Ralph, an Arc Artisan participant
David Lagnado is a shining example of letting inspiration lead the way. In retirement, following 18 years as an administrative supervisor with Icon Solutions, David found he had time to give back. It was two years ago, in the midst of Arc Angels, at his first Arc Angels luncheon that he found his way to The Arc's Volunteer Program.
David and his wife were in attendance supporting a friend, whose son is autistic and receiving life-changing services from The Arc. Since, David is a constant friendly face and helping hand at The Arc and has logged more than 200 hours lending his time and talents in support of The Arc's Artisan Program. His selfless contributions continue to be an integral part of its success.
While at The Arc, David spends most of his time assisting artisans to create unique, original, elegant and whimsical mosaics. These works, often sold at art shows, craft fairs, green markets and other venues, afford Arc clients a chance to contribute to the arts and cultural community, learn business skills and earn money from the sale of their works. It is easy to see the pride on the faces of the artists and the joy on David's face when they celebrate together the completion of an original art piece, or the sale of theirs to a happy patron.
David expands his role into the community, with attendance to off-site Arc events like the Build-A-Bear experience, celebrated Dr. Seuss-inspired art exhibition and meet the artist events, each hosted by The Arc's longtime, valued community partner, The Gardens Mall.
When his active schedule provides him added time, David often just shows up at The Arc with the offer to help in any way, often contributing to programs outside of his regular volunteer role.
When asked what keeps him coming back to The Arc, he answers enthusiastically from the heart with a big smile on his face: "It's these kids!"
A friend to all, David serves as an inspiration to others and has become more than a volunteer – David is a cherished member of The Arc family.